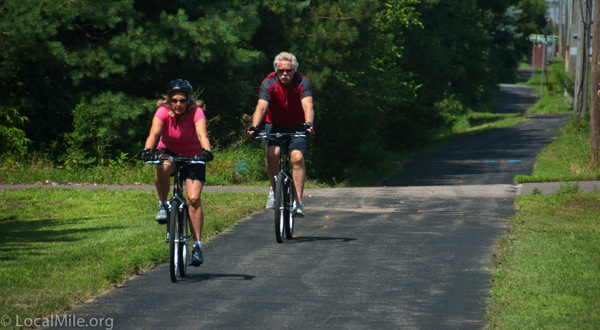 Riding cooperatively with other cyclists, pedestrians, and motor vehicles is important for everyone's safety and enjoyment. 
On A Shared Multi-Use Path (MUP)
These apply to all users; pedestrians, cyclists, and skaters.
Keep Right / Move Right. Just like on the road,

always

keep to the right except to pass. When two or three abreast, move quickly to the right for those coming from behind to pass on the left.

Ring a bell. Do not shout on-your-left. On-your-left became popular in the U.S. for a brief period but has proven quite dangerous as many people move to the left when they hear this instead of moving to the right. The rest of the world uses bells and these generally work better for getting others attention, don't confuse people with the need to move right when they hear the word left, and are much more pleasant. 

It is sometimes considered courteous on narrow or low traffic paths to give a ding of your bell when overtaking someone who is already keeping right. It is part 'hello' part don't be alarmed that someone else is here and passing on your left.  Unfortunately some people in the U.S. interpret this in the wrong way. Fortunately people are beginning to understand this better.

 

Pedestrians generally have the right-of-way However, they should be aware of and courteous of other users.

Lights. All path users should have lights at dusk, night, and dawn. Bicyclists should have a steady red light to the rear and a steady white light to the front (aimed down at the path in front of them, not at other people). Ideally bicyclists should also have a rear reflector, reflectors on pedals, and sidewall reflectors on their tires. Pedestrians should carry a flashlight and maybe have something reflective on as well.

 

Note that flashing lights, front or rear, may be more dangerous than steady lights as they can interfere with others ability to gauge your speed and distance. Flashing lights have been outlawed in most countries for this reason.

 

Earphones can be dangerous. They make it difficult or impossible to hear other path users, particularly those who are passing from behind. If you wear them it may be a good idea to only wear one and the volume low so that you can hear others.
On The Road
(Adapted from MNDOT).
A person riding a bicycle has all of the same rights as any other vehicle and may legally ride on any roadway except were explicitly prohibited.

Cyclists should obey all traffic signs and laws the same as other vehicles.

Cyclists should ride on the road, in the same direction as traffic.

It is illegal and dangerous to ride against traffic or on most sidewalks.

Faster cyclists are discouraged from riding on multi-use trails or bike paths and should use roadways instead.

Use proper lanes at multi-lane intersections.

Cyclists may ride two-abreast (though should be considerate of other traffic).

Cyclists should ride as far to the right as practicable and safe.  This does not mean on the shoulder or even to the farthest right possible, but is the farthest right that the cyclist deems safe. This may often be in the traffic lane. 

Shoulders are not bike lanes though they may be used as a bike lane at the riders discretion.

Motorists and other vehicles must allow a minimum of 3' at all times when passing.

All vehicles, motorists and cyclists, must yield proper right-of-way.
Path or Road? When choosing between a roadway and path, the dividing line is usually about 15-18 mph. Faster than 18 mph on the road, slower on the path. Note that, due to poor design, some paths have speed limits lower than 18 mph.  
Bicycle riders do have, for their own safety, considerable discretion in where they ride. A slower rider may choose to ride on the roadway instead of an adjacent path for a number of reasons including a path that is too narrow, in poor condition, crowded, has dangerous obstructions, or is otherwise deemed not as safe as the roadway. Faster riders may choose to utilize a path if the roadway is exceptionally dangerous though they should be respectful of other users and slow down when necessary.