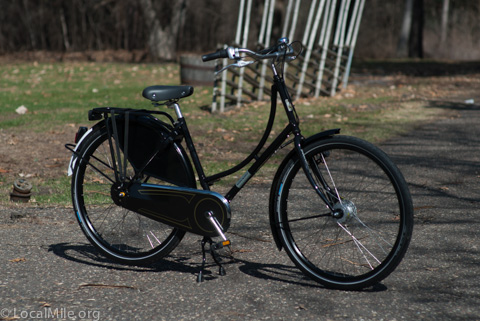 The most ubiquitous bike in Europe (and perhaps, the world) is a city bike and the most ubiquitous city bike is what is often called a Dutch bike, Omafiets, or Opafiets. They've been around, with minimal changes, for decades.
These are the most popular bikes for a reason – they work. Every feature has a purpose in making them reliable, efficient, easy and comfortable for anyone to ride, able to carry the detritus from a days errands, and ridden whenever and in whatever clothes you have on. Armani suit? No problem. Badgley Mishka dress and silk Anne Klein heels? No Problem. (For a bit of daily fashion on two wheels check out Cycle Chic)
They come from the factory with the key accessories you need, all fully integrated, so no having to buy extra stuff and wondering if this or that will work. They're designed and built to serve a purpose, last a lifetime and, best of all, they never go out of style. When people in Europe or Asia who ride their bicycle every day buy a new one, this is what they purchase.
Dutch: It's All About The Geometry
When someone thinks of a bike as Dutch they are often thinking about the features; fully enclosed chain, spats, and all black with a bit of white on the back fender. These don't make a bike Dutch though (and many good Dutch bikes do come in colors other than black).
What really makes a bike Dutch is the geometry. It's how your body connects to the bike and this relationship to the wheels and road. It's the location of the pedals, seat, and handlebars and the shape of the handlebars. These are the key elements that make Dutch bikes comfortable, healthier, cooler (less sweat), warmer (better blood flow in winter) and safer. The various features and extreme durability are Dutch too but can also be found on other bikes.
Their upright geometry is not only safer since your body is naturally upright and your head is higher and more easily able to see people and cars (and they you!) and what's going on around you, but also healthier because it vertically aligns your sit bone, back, neck, and head. Most hybrids, cruisers, leisure bikes, and pseudo-Dutch bikes like the Electra Amsterdam do not provide this crucial benefit.
While beneficial to everyone, this geometry is critical for people with back, neck, or knee problems. People who ride upright bikes also develop better and healthier posture when off the bike. This is why so many people can so easily and comfortably ride long distances on Dutch bikes—they're designed for it. I've ridden 75 miles in a day in complete comfort. For more read Dutchness.
Leaning Forward – Why Hybrids Aren't Such A Good Idea.
Hybrid and Mountain Bikes became quite popular in Europe and Asia in the 1990's but after a bit people largely went back to their uprights saying that they were more comfortable, efficient and caused less sweat. There are good reasons for this.
The geometry of Dutch city bikes and sitting properly upright place our body weight where and how our body was designed for it—our sit bone (ischia) supporting a counter-balanced spine.

Leaning forward, even just a very slight bit shifts our weight forward of it's designed center over our sit bone. Our spine is no longer properly counter-balanced so we must now use a significant amount of muscle energy in our back to overcome this.
Increasing amounts of our weight are also now supported by our shoulders, arms, wrists, and hands which must also use extra muscle energy. Apes are designed for this, humans not so much. As well, Orthopedists report problems of compression of the ulnar nerve in the hand (pressure on the hypothenar eminence between your pinky & wrist) from leaning forward on hybrid bikes and supporting our weight with our hands rather than our rumps.
Leaning forward also shifts the weight that is not supported by our arms from our sit bone to our perineum. It's not designed for this so we end up crushing arteries and nerves including those that lend themselves to some rather important bits—our penis, clit, and labia. Crushing the pudendal nerve for instance is what leads to numbness and other problems.
A bike with proper upright geometry has us sitting upright as we were designed and just as we do in a chair. There is no back, wrist, neck, genital or other pain. When needed for extra power we can lean forward as much as we want and when this power is not needed we have the freedom to sit properly upright.
Leaning forward is good for racers, just not so much for everyone else. If you are riding hard, like in a road or mountain bike race, then your back acts as a bit of a spring. Racers are usually putting no weight on their hands or arms and are often actually doing just the opposite—pulling up or back on their handlebars. When pushing hard this posture allows them to drive more energy (watts) to their pedals and provides better control of their bicycle.
On the other hand, if you feel any weight resting on your hands then you are not pushing hard enough to gain any benefit from leaning forward. In fact, you are wasting energy supporting your body weight with your arms and back.
It often takes more energy to ride a 20lb hybrid 10 miles than to ride a 40lb city bike with proper geometry that same speed and distance. And the person on the hybrid is likely to sweat more and more likely to have sore hands, wrists, arms, shoulders, back, or rump. Sitting upright also makes it much easier to carry an umbrella if it's raining or a cappuccino if it's not. Which sounds preferable?
One final and interesting note. As we age our lumbar spine degenerates and forms bone spurs where the spinal nerves exit (foramen) causing spinal stenosis. A forward flexed position such as riding a hybrid is then sometimes more comfortable and alleviates pressure on the nerve root and therefore the radicular or radiating pain in the leg. However, by the time we develop spinal stenosis we also no longer have the back, core or upper extremity strength to comfortably ride a hybrid design (yes, a bit of positive encouragement for our future from my favorite Orthopedist). The most important bit here though is that riding an upright bicycle somewhat frequently (3 to 4 five mile trips per week) staves off spinal stenosis and many other ailments.
All that said, if you have a hybrid and enjoy riding it then by all means continue. The benefits of riding far outweigh any negatives. If you're in the market for a new bike then consider a Dutch city bike.
Key Features: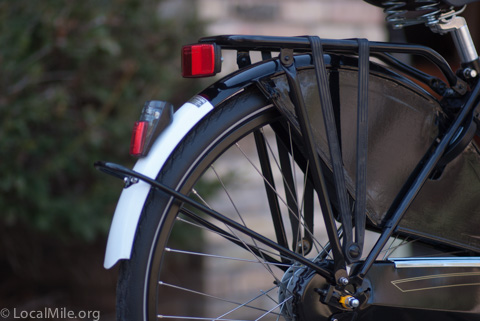 Fenders. The full fenders do a terrific job of keeping stuff, wet or dry, off of you.
Spats. Sometimes called a skirt guard or coat guard – those covers along the sides of the rear wheel. Similar to fenders – keeps stuff off of you and keeps stuff you're carrying or wearing from getting caught in the spokes.
Rear Bumper. The tubes that support the rear fender extend out an extra bit which acts as a bumper.
Fully Enclosed Chain Case. Not just a fender across the top of the chain, but fully enclosed on every side. It keeps the chain and drive system clean and functioning well and keeps oil and grit off of your clothes. Prada? Yep, no problem.
Girlfriend Rack. They're called that for a reason – many guys carry their girlfriends on them. Or vice versa. These are solid racks that can carry just about anything you can strap on them. Note the permanently attached straps that are always there and ready.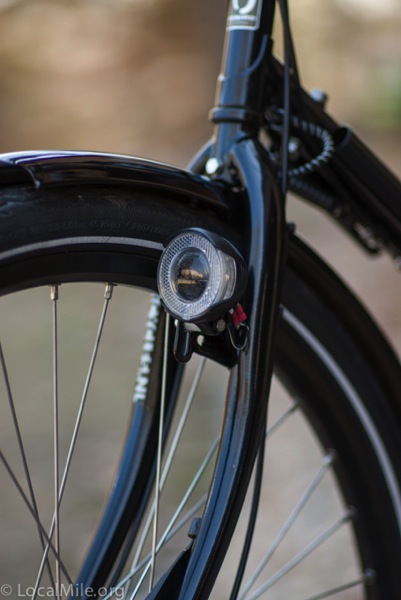 Lights. Both front and rear. Typically the rear light is a 'stand light' which just means that it stays on for about 10 minutes after you stop. Some front lights are also stand lights. Note that most European countries do not allow blinking lights as these have been shown to distract drivers more than make them aware. (Also, check out the super strong spokes in the picture above).
Dynamo Batteries have come a long way, but still require charging and replacing. A dynamo in the front hub (or a bottle dynamo on the front tire) powers both the front and rear lights. Your lights always work. You never have to worry if you forgot to charge them.
Reflectors. Bikes in European and most Asian countries are required to have front and rear reflectors, side-wall reflectors on the tires, and reflectors on the pedals. This combination is believed to work better than blinking lights since drivers immediately recognize them as being a bicycle from any angle. This combination also provides others with a good indication of what direction a rider is heading and if they are turning.
Internal Geared Rear Hub. Unlike the typical derailleur, everything is fully enclosed and as close to bullet-proof as you can get. Even left outside all year in all kinds of weather it's not unusual for these to go two or three decades without maintenance (though occasional maintenance isn't a bad idea). They are much easier to use and shift more reliably than external derailleurs. One huge advantage is that they can be shifted anytime, even when stopped, which comes in very handy when you forget to downshift prior to stopping. They are also much quieter than external derailleurs.
Single, two, and three-speed hubs are available and work well for flat or moderate hills. For some people in the Twin Cities a 7 or 8 -speed may be a better option. For the ultimate in cycling luxury, try the Nuvinci N360 variable speed that I have on my Opafiets.
Internal Roller or Coaster Brakes. Another nod to high reliability in any and all weather. Being internal not only reduces maintenance but keeps them working the same regardless of weather. External rim brakes and disc brakes require more maintenance and don't work as well in wet or snow.
Many Europeans prefer coaster brakes since that allows them to keep their hands free for carrying lumber, holding their cell phone, or both. A coaster brake also has the advantage of no cables to freeze up in winter while roller brakes are hand brakes with cables. Options are coaster only, rear coaster plus front roller, or rear and front roller. What you choose is personal preference (I prefer a coaster rear and roller front) though folks with weaker hands, seniors in particular, should include a coaster brake.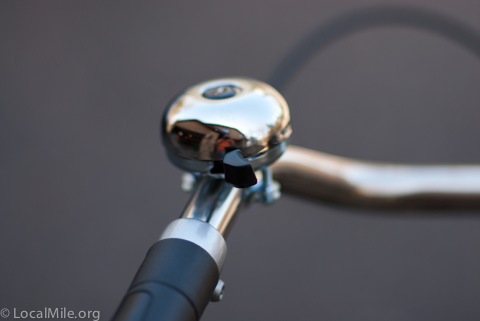 Bell. Another legal requirement of all bikes in Europe. Bells work better and are more pleasant than "on your left" (and that often causes people to move to their left).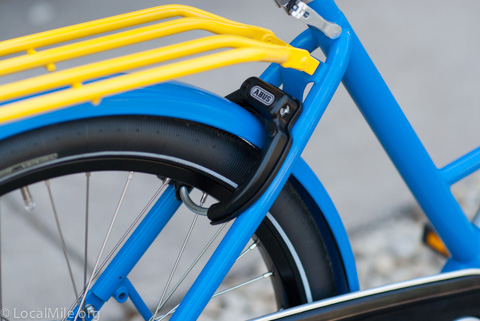 Ring Lock. Locks the rear wheel so that it can't roll. Given the weight of these bikes this is usually enough for short stops or when you're in a cafe and can see your bike from where you're sitting. For longer security needs a U lock or similar may be good to have.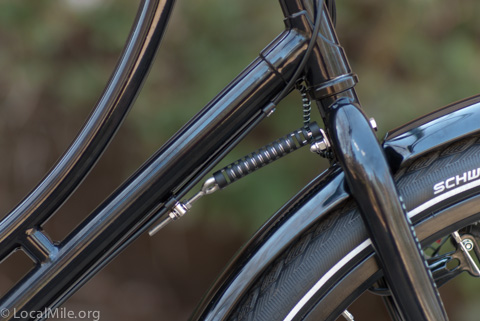 Steering Stabilizer. A spring that keeps the front wheel from turning easily when parked. Keeps your bike more stable and is especially important for loading stuff on front or rear racks or baskets. Also makes riding more comfortable. A seemingly minor detail that makes a world of difference when it comes to the daily enjoyment of these bikes.
Tire and Wheel Size. The larger tire provides a much smoother ride, especially over bumps and curb cuts. They are also more durable and puncture resistant and hold air longer so don't have to be pumped up as often (once or twice per year). The thinner tires on English and other bikes are a bit harsher, more likely to get a flat, and require pumping more often.
Schwalbe Marathon Tires. These are perhaps the most durable and comfortable bike tire available. The white strip is reflective.
Powder Coated Paint. Another part of lifetime durability.
Stainless Hardware. Yes, more lifetime durability.
Saddle. A leather Brooks B67 or B67s is the ultimate in upright comfort. And let's be clear, for comfort, this is a very critical component. Other saddles such as from Selle Royal work well to.
Overall design, geometry, and construction. These bikes are designed for both comfort and carrying stuff. Many bikes get squirrelly when you weigh them down with wine & cheese for 30 of your closest friends, but not these.
Options: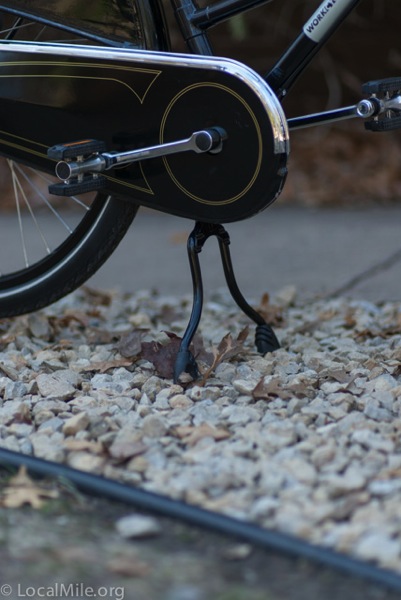 Center Stand. Not as ubiquitous as everything above though maybe half of bikes in the Netherlands and Denmark will have them. Particularly useful for loading stuff on front or rear racks since the bike is upright and more stable. You can order a Hebie like this one from here.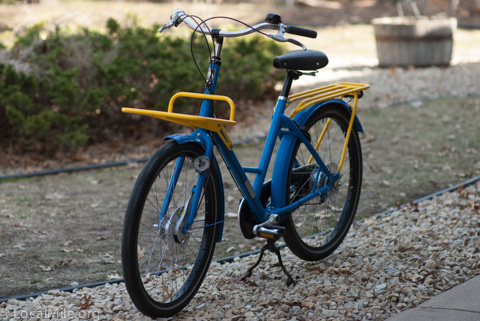 Front Rack / Basket / Box. Often the easiest place for carrying stuff. These can be mounted to the handlebars, front fork, or frame. For heavier loads a frame mount is usually preferable. Beyond that it's personal preference. The front racks on our Omafiets & Opafiets just slide in so are easily removed when we don't need them, the rack on the Gr8 (above) is attached with screws so is a little more permanent. A basket or wooden wine crate makes a great addition to these racks.
Decoration. Perhaps the most critical element of all. From custom paint to stickers to flowers.
——– Buying
Dutch city bikes generally come complete with everything above. They're not inexpensive, but given that they come completely integrated, are nearly maintenance free and last pretty much forever, they're worth it.
There are some variations in ride and these somewhat vary by individual rider so it's ideal if you can test ride them before you buy. HOWEVER, traditional Opa or Oma bikes from Workcycles, Azor, Batavus, and Gazelle will likely make anyone happy so I wouldn't hesitate ordering one. I find Workcycles and Azor the most comfortable, Gazelle kind of 'cramped' feeling, and Batavus somewhere between these, but that is just personal preference. On visits to The Netherlands I've spent days riding on all of these and they've all been quite comfortable.
Several shops stock Electra and tout them as 'Dutch'. They are not. Nor are they a good bike for most people. The ride is less comfortable than Dutch (or even English) bikes, it's missing many key components, and several components are downgrades from the higher quality components found on European bikes. I've heard numerous complaints from people who have bought them that they get pushed back on the saddle and have developed a sore back from riding them. I once recommended these but now suggest staying away.
The same goes for most cruisers, beach bikes, and a number of others. Geometry is important for comfort and efficiency.
If you order bikes from Europe, such as we have from Workcycles, expect about $100-200 in packing and shipping costs and $75 in customs import duties.
As an alternative, you can fly there and bring them back with you. This will save considerably on customs duties and shipping costs though Delta will limit you to one bike per passenger coming back. On the other hand, you can spend some time in Amsterdam, test ride a variety of bikes, bike around Amsterdam and the Netherlands, maybe visit Keukenhof Gardens, the Anne Frank House or the just reopened Rijksmuseum, take a canal boat tour, and take a train to Brussels, Paris, Copenhagen, or Stockholm.
Our Workcycles were easy to assemble and took about 20 minutes each. On the other hand, many local bike shops are willing to have the bike delivered to them and they'll take care of the assembly – for a small, but worthwhile, fee.
Determining frame size is pretty straightforward on city bikes. The general rule-of-thumb is to get the largest frame that will, once adjusted, allow you to tip-toe the ground while sitting on the seat. Whoever you order from will be able to help with this.
Some Reviews of City Bikes
Reviews should always be taken with a bit of a grain of salt. Not that reviewers are dishonest or biased, but reviewers are all different, have different needs, and look for different things. But reviews are still helpful.
Manufacturers
If you want a European/Dutch city bike, these are the key manufacturers. Many, such as Workcycles, will ship directly to you if no local bike shops carry them.
Other Manufacturers:
These are the close but not quite city bikes. These don't usually include all of the key features above, may not be as super reliable, and likely aren't strong enough to carry your girlfriend (or boyfriend) on the rack, though they may be everything you need. Some of these have good geometry and some not—maybe in the future we can do a more substantive review.
Shops:
Some local shops worth checking out.
There are also a number of shops outside the Twin Cities that stock a wider selection of city bikes and are worth visiting or ordering from. There are many more, these are just the ones I'm familiar with.
Used Dutch Bikes. 
Used Dutch Bikes – I don't know much about them but they may be a good option (they ship new bikes too).
Parts and Accessories
Dutch Bike Bits has a good selection of parts and accessories as well as good advice from a lot of experience.
Sizing
Dutch bikes are typically sized a bit larger than recreational bikes and the first time you ride one it will feel larger. However, once you get use to it you'll love it. Also note below that Henry wrote 'plus' after each. With a long enough seat tube they can be adjusted for just about anyone. I'm 5'11" and ride my wive's 49cm Omafiets on a regular basis and thoroughly enjoy it even though it's supposed to be way too small for me.
From Henry @ Workcycles (this generally applies to all Dutch bikes such as Gazelle, Azor, and Batavus):
Below is a rough frame size chart for traditional Dutch bikes. Note that one typically rides a Dutch bike with a considerably bigger frame than what they might be accustomed to in road and mountain bikes. This issue comes up frequently with our customers. For example I ride a 56cm c-t road bike and a 61cm Secret Service (59cm c-c).
With the "normal" Dutch frame size one can just barely or not quite stand over a diamond frame bike with their feet flat on the ground
45cm: quite small (I'd recommend a Gr8 to this customer anyway)
49cm: 155cm, 5'1″ plus
53cm: 161cm, 5'3″ plus
55cm: 165cm, 5'5″ plus
57cm: 168cm, 5'6″ plus
61cm: 178cm, 5'10″ plus
65cm: 188cm, 6'2″ plus
70cm: 198cm, 6'5″ and over
73cm: 200cm, 6'6″ and over
Obviously there's a lot of tolerance between people depending on their build. With step through frames it really doesn't matter much, as long as the seat post can go low enough. Many Dutch ladies bikes have traditionally been available only in 56 or 57cm anyway.
Standover heights:
We don't actually stand over our bicycles here in this manner but standover height is often used as a guideline elsewhere so here they are for those accustomed to this measurement:
Opa 65cm = 90cm
Opa 61cm = 86cm
Opa 57cm = 81cm
Opa 53cm = 78cm
Secret Service 67cm = 90cm
Secret Service 61cm = 84cm
Secret Service 57cm = 80cm
Secret Service 55cm = 78cm
Secret Service 53cm = 77cm
Different Muscles
Riding bolt upright uses different muscles throughout your body than leaning over on a road, mtn, or hybrid or even a beach cruiser. Perhaps the greatest difference is it's greater use of your abs. Great for toning your tummy or developing a six pack (Yes, there's a reason those Dutch look so good) but many road riders feel like weaklings the first time they ride an upright.
The good news is that over a short time you build up these muscles and feel better and more powerful.
Sweat
Many people get concerned about sweating, particularly if they're riding to work or out to dinner. One key point to remember is that it's NOT sweat that smells, it IS bacteria. Sweat that dries isn't a problem. Sweat that stays moist and results in bacteria growth is a problem.
Riding an upright city bike at 10-13 MPH will often result in less sweat than walking in the same temp and humidity but most importantly is that it results in much less bacteria.
The keys to avoiding sweat and bacteria are to ride at a moderate pace (11-13 mph is good but a bit faster is usually OK), sit properly upright, avoid helmets and gloves, wear clothes that breath and ride quite slow for the last little bit so that the breeze can cool you down and dry any sweat that you do have. Most people (like the entirety of The Netherlands, DM, SE, FI, DE and elsewhere) can ride in up to 80-90f temps and fairly high humidity with little to no smell.
The upright part is key. If you lean forward, even a slight bit, you waste a lot of muscle energy supporting your body with your arms, shoulders and back which causes you to sweat more. This especially if you are overweight. Perhaps most important though is that this results in folds in your belly skin and reduces cooling surface – a bacteria factory!
Helmets are a major odor problem. Your head is perhaps the number one coolant of your body and if it can't do its job because of a helmet then your whole body will be hot. Hair confined under a helmet also becomes a haven for bacteria. There is no helmet design that prevents this. As to safety. Dutch, Danes and others don't wear them and have lower rates of head injuries. In theory they are beneficial but in practice there has been no indication that they reduce head injuries nor provide any benefit beyond reducing scrapes. Countries with high helmet use actually have higher injury rates and there is speculation that helmets may actually cause increased injuries, particularly to the spinal cord from rotational torsion.
Finally, some people and perhaps even most do better without anti-perspirant. The ingredients in anti-perspirant clog pores that are designed to help alleviate overheating. What can't come out of underarm pores as lite perspiration will come out elsewhere as sweat that could then become bacteria. Most normal daily activities, including riding a bicycle, allow for adequate ventilation of underarm areas to prevent bacteria. On the other hand, sitting in a cramped airline seat does not so that's a good time for some anti-perspirant.
Switching to this is best done when you have a few days that you don't have to be perfectly odorless as it takes a few days for the built-up gook clogging your pores to clear out.  If you have access to a sauna then a couple of 3 round sessions should clear them quickly.
Finally, if you prefer a video…