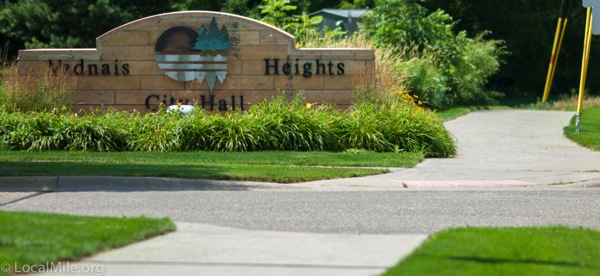 Note: Updated 25 July, 2013 to correct some information about Vadnais' 2011 Comprehensive Plan.
Vadnais Heights comprises numerous island neighborhoods separated by Ramsey County roads with little or no planning for walking or bicycling. While some people are comfortable walking and bicycling outside of their neighborhood on busier roads with narrow shoulders, many, and perhaps most, are not. Many of those who do venture out also say that riding with traffic scares them and discourages them from riding very often. This is made worse in winter when many of these shoulders are not plowed or plowed inadequately for use by pedestrians or people riding bicycles.
Vadnais Heights' 2011 Comprehensive Plan acknowledges some deficiencies in its walking and bicycling infrastructure, but also indicates a lack of understanding of the difference between recreational trails and safe, functional bicycle and pedestrian infrastructure that allows it's average citizens to safely walk or ride to local amenities. Instead of striving for segregated pathways and intersections that are safe and desirable by most people, the plan too often relies on road shoulders that are only comfortable for a minority of citizens, primarily the lycra crowd. Worse, the plan touts striped on-street parking lanes as effective bicycle lanes. These are actually quite dangerous for cyclists as they cause cyclists to swerve into traffic to dodge parked cars and put cyclists in the 'door zone' where many have been injured or killed by opening car doors. To their credit they have now installed "No Parking" signs on Arcade and Belland Avenues.
This lack of safe bicycling and walking routes will not serve Vadnais Heights well as increasing numbers of people choose to walk and bike more often for transportation and to make home purchase decisions based on the pedestrian and cycle friendliness of communities. 
Every major road in Vadnais Heights should have, at a minimum, a wide, well designed, and well maintained path to allow residents to safely and comfortably walk and bike to local schools, shops and restaurants, or to visit friends. Every intersection should be safe and feel safe for pedestrians and people on bikes. 
Here are seven wishes for Vadnais Heights.