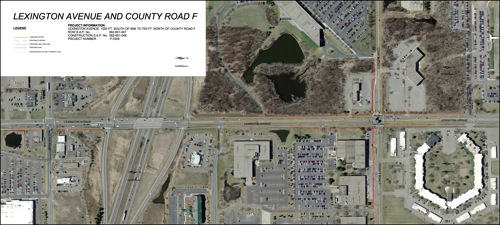 Update (23 Jul, 2013): A crossing has been added across Lexington just north of the 694 ramps. This will be good news for Land O' Lakes folks and anyone who ventures down the path on the west side of Lexington without realizing that it's effectively a dead-end.
They are also exploring the addition of refuges.
They are exploring adding No Turn On Red signs at Lexington & F though agree that these are not always effective with U.S. drivers. They are also concerned about how this might delay motor traffic.
All path/pedestrian ramps will be full path width. I assume this means that cyclists can safely ride to street level at any point across the ramp. No word yet on dealing with the jarring bumps of current designs or with anti-skid rumbles.
More to come.
—-
Ramsey county plans, in 2014, to reconstruct Lexington Avenue between Red Fox Rd (just south of 694) to just north of it's intersection with County Road F, as well as nearby portions of County Road F. Expanding the Lexington & F intersection is the primary driver of this project.
Click for latest project plan.
They have included some pedestrian and cycling infrastructure, but the current plan still leaves this corridor dangerous for both pedestrians and cyclists, particularly at the Lexington & F intersection that is the core of this project. Given the additional lanes, potentially higher motor vehicle speeds, lack of crossing refuges, and other elements, this corridor may be more dangerous for pedestrians and cyclists after this project is complete than it is currently.
Shoreview has some of the best cycling and pedestrian infrastructure in the Twin Cities (and the U.S.). It will be a shame if this project does not continue this leadership.
Below are some concerns with the current plan as well as some possible recommended solutions.